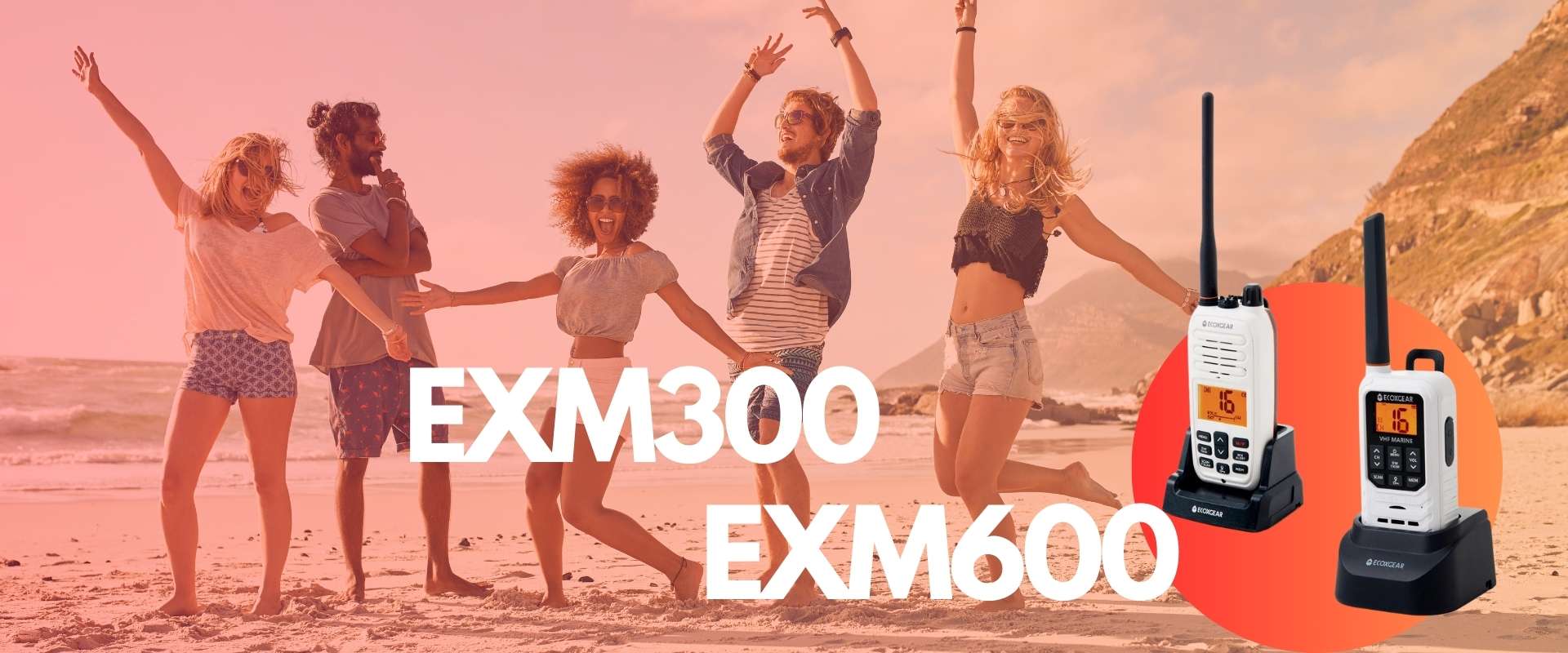 ECOXGEAR launches two new marine-grade VHF radios
Leading Bluetooth speaker and UHF radio manufacturer ECOXGEAR Australia has recently released two new VHF Marine Radios—the EXM300 and EXM600.
ECOXGEAR Australia already has a growing selection of ultra-durable UHF radios, but the EXM300 and EXM600 stand out as their first-ever series of VHF radios that are designed to withstand harsh conditions out at sea. Both these radios come with an IP67 waterproof and dustproof rating and float in water. They also feature water-activated strobe lighting for easy spotting and retrieval if accidentally dropped in water.
According to ECOXGEAR Australia, the EXM300 and EXM600 are targeted at individuals who want to maintain communication whilst out on boats, jet skis, and other watercraft. Thanks to the marine capabilities of these radios, users can communicate with maritime authorities for safety, monitor weather and distress channels and other VHF radio users whilst out at sea, without worrying about the radios getting damaged by seawater.
Both radios are factory-programmed with International, USA, Canadian, and NOAA Weather channels and offer crystal-clear audio for users, even in loud environments. These features make the two radios ideal for use by recreational boaters in international waters.
While the EXM300 and EXM600 have some similar features, there is also a host of differences. The EXM300 has an output of 3 watts, while the EXM600 offers switchable power ranging from 6 watts to 3 or 1 watts. The EXM300 also boasts 14 hours of operating time and the EXM600 has up to 20 hours of operating time.
ECOXGEAR Australia's, Kuni Ishii said, "Our line of UHF CB radios is a great success, so we wanted to go even further with our offerings". He further added, "Our initial range of UHF CB radios were mainly designed for use on land (4WD, Camping, Outdoor Adventures), now with the EXM300 and EXM600's marine radios, people who like adventuring in coastal waters can have reliable and affordable communications at their side."
The EXM300 and EXM600 are priced at $149.99 and $249.99 respectively and they are both available on ECOXGEAR's online store and Anaconda.
About ECOXGEAR
Founded in 2006, ECOXGEAR is a leading Bluetooth speaker manufacturer that aims to give customers the best digital music experience as well as the ability to stay connected when working in or exploring the great outdoors. Their products are built to be rugged enough to work in all kinds of environments, be it on land or sea. ECOXGEAR speakers and UHF radios have become a popular choice among people who love to explore the great outdoors.
Visit www.ecoxgear.com.au for more information.
EXM300: https://www.ecoxgear.com.au/products/exm300
EXM600: https://www.ecoxgear.com.au/products/exm600
Media Contact
ECOXGEAR Australia
Unit 206/27 Mars Road Lane Cove, NSW, 2066
M: 1300 883 085